Each unique Griffinworks product is conceived/designed in Griffintown and made by hand in St-Henri.                (i.e. NOT mass-produced in an offshore factory!)
GriffinworksTM accepts custom orders for furniture exclusively; it does not maintain an inventory. Orders are based on the prototype designs displayed on the  "Products" page of the griffinworks.ca website. Using these prototypes as a guide, Griffinworks will work with you to produce a custom made piece(s) for your home that will suit your requirements in style, size, and colour. Initially, orders will take two (2) to three (3) weeks from order placement to completion. For Griffinworks to accept your order, you must be located somewhere in the Greater Montreal Area. (At the present time we do not have the capacity to deliver beyond 25 km of Montreal Island). To place your order, please go to the "Products" page on this website and make your selection. A deposit of 50% of the full price of the item will be charged to your credit card when you place your order. The balance of 50%, plus delivery charges (if applicable) will be due upon delivery. Once your order and deposit are processed you will receive a confirmation e-mail.
Choices of Wood Finish:
There are three possible choices of wood colour, as shown in the adjacent photo:
Antique cherry stain (light)
Natural Wood
Brown oak stain (light)
All Griffinworks woods are protected with four (4) to five (5) coats of premium durable water-based clear coat non-toxic varnish.
Once you have decided what colour you want, you are ready to go to the "Products" page to place your detailed order.
NOTE: In addition to the standard colours shown in the photo, other colour options will be possible during the order process via the "Products" page, or after your initial order has been processed.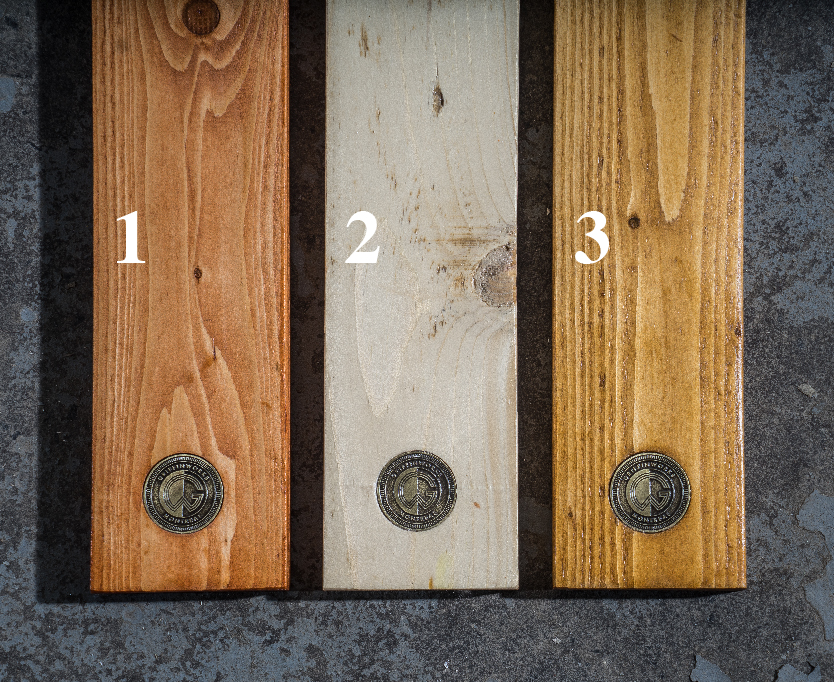 "The trays I purchased from Griffinworks were both beautiful and sturdy! Built to last for years to come. Shaun was extremely friendly and helpful throughout the entire process. He answered all of my questions promptly and was a pleasure to work with." – Erin L., New York, New York
"Shaun, we're really happy with the end table! The wife loves it!  Your customer service was great, with really quick turnaround from the order to the delivery." – Jean-Francois K., Montreal (Griffintown)
"Ordered the Peel Table at the end of October. Shaun was extremely accommodating with a few modifications to the original model. Also kept me informed with progress throughout the process with pictures, as I was out of the country.  The end result surpassed my expectations!  The table looks great and it's always nice to encourage local business. I would recommend Griffinworks on any given day. "  – Jeremie Yelle, Montreal (St.-Henri)
"We ordered the Notre-Dame Wall Mirror from Shaun and couldn't be more pleased with the entire process from start to finish. It's a beautifully handcrafted item and Shaun gladly assisted in customizing the mirror further to fit our space perfectly.  Griffinworks is highly recommended!"  –   Matt & Dani,  Montreal (St.-Henri)
"Outre le fait que ma table de chevet Dalhousie est un bel objet pratique bien fabriqué, elle permet également de recycler des matériaux mais surtout de rappeler le riche passé industriel du Griffintown. Chapeau à Shaun pour cette initiative." –  Pierre St-Cyr (Griffintown)
"Ordered a planter box and could not be any happier. We have received so many compliments from friends and family. Working with Shaun was extremely easy and his level of customer service is out of this world!!!! We will definitely be reordering some custom pieces in the near future." – Gustavo Bueno (Montreal Area)
"Having recently moved from St-Henri to Ottawa, I asked Shaun to build us a unique hutch/cabinet. He worked diligently to design, create and finish a beautiful one of kind piece that we absolutely love! It has become our custom "bar" and a centrepiece of our living room. So great to have original Montreal artwork to remind us of our time there! Shaun even delivered our cabinet personally and helped place it in our house, we highly recommend his work." – Lea G. (Ottawa, ON)
"I moved to my new place in August, and, not knowing anything about stool heights, excitedly asked Shaun if I could purchase his last two bar-height stools. Well, it turns out that my kitchen island is counter-height!! Still, I was really happy with the stools, so I ordered a third one (because three looks really nice and it's good for guests!) and Shaun agreed to modify the taller stools to a more comfortable height for me! It was a pleasure to converse with Shaun every step of the way, and of course, the final products are beautiful, functional, and locally made! They get lots and lots of use at my house and I couldn't be happier!" –
Emily H. (Montreal, QC)
IMPORTANT:  When ordering, set the Discount code to DEPOSIT50 to pay only the initial 50% deposit.